The summer has been active so far with social functions but overriding all have been the Queen's Diamond Jubilee and the London Olympics. The weather hasn't been great for outside activities but the Olympic torch parade through Cheltenham went well and there had been a lot of bunting and small scale activities for the Queen. However our involvement with a full house of guests over the weekend limited us to watching some of the events on the television, including the BBC's disappointing coverage of the Thames pageant, for which they've received some well-deserved flak.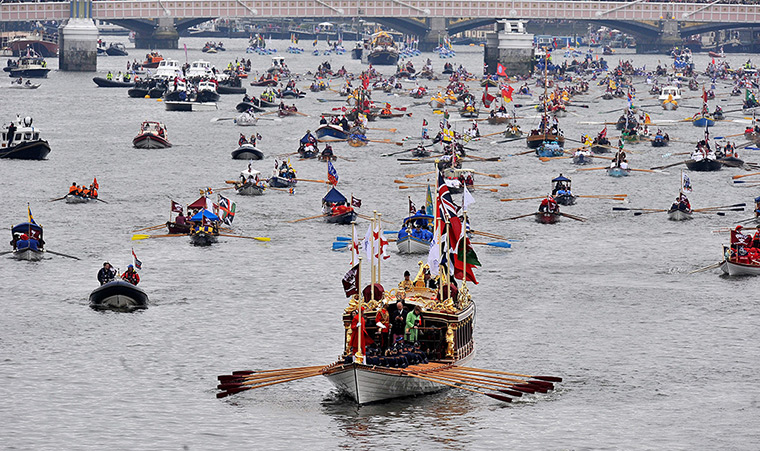 The main problem that I could see, and what was reflected in many of the comments, was that the whole commentary had effectively been dumbed-down with the involvement of a lot of semi-celebrity soap-opera type of interviewees who clearly had no real knowledge of the background of anything that was going on. Of course the weather didn't help, but all in all, the opportunity to grandstand Britain's ability to stage pomp and circumstance brilliantly and the historical backdrop and very interesting information was virtually ignored. The whole occasion had almost been turned into a large scale reality TV show with all the trivia attached. As a number of people said 'Where were the Dimblebys?'
Knowing that once our guests had gone we had some time of our own and having seen that Agatha Christie's 65th Anniversary stage adaptation of 'Murder on the Nile' was on at the Everyman Theatre starring Kate O'Mara, we bought tickets. My only experiences of the story, not having read the book, were the film versions with Hercule Poirot in lead role played first by Peter Ustinov then David Suchet. However this stage version had no Poirot, but a clergyman as lead investigator, who was also implicated within the plot. The play also closed with an inconclusive end, which was also a surprise.